Al-Badr Health & Fitness Centre: A Model of Success

Al-Badr Health & Fitness Centre is a breath of fresh air and a splendid development for the Muslim community of East London. The centre has been established to serve the needs of the community through the provision of a fully equipped, modern gymnasium which offers the latest resistance and workout machines. But that isn't all, the centre also has a cafeteria, a crèche, sauna, steam, massage and therapy rooms. Martial Arts such as Taekwando and Boxing will also be taught at the centre, starting in the New Year.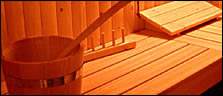 Designed and organised with an Islamic ethos, Al-Badr adheres to all religious principles. Brothers and sisters will find a safe, secure and friendly environment to exercise, socialise and stay fit. Under the guidance of competent and trained instructors, individual fitness programmes and diets can be prepared to facilitate the achievement of specific health targets and goals.
The official opening of the centre on the 5th of December 2003 attracted an array of media attention. Representatives of the local police and councillors attended the opening ceremony, with a message of support and praise for the founding of such a project.
MHN would like to congratulate the Al-Badr team for providing such a needed service. We hope that brothers and sisters make good use of the facilities and that the centre goes from strength to strength, whilst acting as a model for other such projects to be instigated in every Muslim community in the UK, Insha-Allah.
For further information please contact: Al-Badr Health & Fitness Centre, 2nd Floor, 453 Leabridge Road, London E10 7EA. Tel: 020 8558 8819